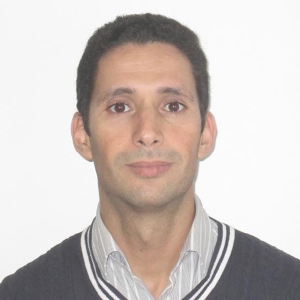 Fethi Mahmoudi
PhD in Mathematics, Université Paris XII, France (2005)
Master in Numerical Analysis and Partial Differential Equations, Université Pierre et Marie Curie, France
Position: Associate researcher
Institution: Centro de Modelamiento Matemático (CMM)
Universidad de Chile
Research area: Nonlinear Partial Differential Equations, Differential Geometry, Riemannian Geometry.
Contact:
Email: fmahmoudi@dim.uchile.cl
Phone: +56 2 2978 0512
Adress: Beauchef 851, North Building, 7th floor, office 707. Santiago, Chile.
Publications
S. Deng, Z. Khemiri and F. Mahmoudi, On spike solutions for a singular perturbed problem on compact Riemannian manifolds , CPAA, to appear.
Juan Dávila, Jorge Faya, Fethi Mahmoudi, New type of solutions to a slightly subcritical Hénon type problem on general domains. J. Differential Equations 263 (2017), no. 11, 7221–7249. (pdf)
Khemiri, Zied; Mahmoudi, Fethi; Messaoudi, Abdellatif Concentration on submanifolds for an Ambrosetti-Prodi type problem. Calc. Var. Partial Differential Equations 56 (2017), no. 2, Art. 19, 40 pp.
F. Mahmoudi and B. Abdellaoui, An improved Hardy inequality for a nonlocal operator, DCDS-A, Vol. 36, No. 3, 2016. pdf
Mahmoudi, Fethi; Nouaili, Nejla; Zaag, Hatem Construction of a stable periodic solution to a semilinear heat equation with a prescribed profile. Nonlinear Anal. 131 (2016), 300–324.
Deng, Shengbing; Mahmoudi, Fethi; Musso, Monica Bubbling on boundary submanifolds for a semilinear Neumann problem near high critical exponents. Discrete Contin. Dyn. Syst. 36 (2016), no. 6, 3035–3076.
M.M. Fall, F. Mahmoudi, and E. Valdinocci, Ground states and concentration phenomena for the fractional Shrödinger equation, Nonlinearity 28 (2015), no. 6, 1937–1961. pdf
Abdellaoui, B.; Biroud, K.; Davila, J.; Mahmoudi, F. Nonlinear elliptic problem related to the Hardy inequality with singular term at the boundary. Commun. Contemp. Math. 17 (2015), no. 3, 1450033, 28 pp. pdf
Mahmoudi, Fethi; Sánchez, Felipe Subiabre; Yao, Wei. On the Ambrosetti-Malchiodi-Ni conjecture for general submanifolds. J. Differential Equations 258 (2015), no. 2, 243–280. pdf
Del Pino, Manuel; Mahmoudi, Fethi; Musso, Monica Bubbling on boundary submanifolds for the Lin-Ni-Takagi problem at higher critical exponents. J. Eur. Math. Soc. (JEMS) 16 (2014), no. 8, 1687–1748. pdf
Fall, Mouhamed Moustapha; Mahmoudi, Fethi. Weighted Hardy inequality with higher dimensional singularity on the boundary. Calc. Var. Partial Differential Equations 50 (2014), no. 3-4, 779–798. pdf
Mahmoudi, Fethi. Constant k-curvature hypersurfaces in Riemannian manifolds.Differential Geom. Appl. 28 (2010), no. 1, 1–11. pdf
Mahmoudi, Fethi; Malchiodi, Andrea; Montenegro, Marcelo Solutions to the nonlinear Schrödinger equation carrying momentum along a curve. Comm. Pure Appl. Math. 62 (2009), no. 9, 1155–1264. pdf
Fall, Mouhamed Moustapha; Mahmoudi, Fethi. Hypersurfaces with free boundary and large constant mean curvature: concentration along submanifolds. Ann. Sc. Norm. Super. Pisa Cl. Sci. (5) 7 (2008), no. 3, 407–446. pdf
Mahmoudi, Fethi; Malchiodi, Andrea; Wei, Juncheng Transition layer for the heterogeneous Allen-Cahn equation. Ann. Inst. H. Poincaré Anal. Non Linéaire 25 (2008), no. 3, 609–631. pdf
Mahmoudi, Fethi; Malchiodi, Andrea; Montenegro, Marcelo. Solutions to the nonlinear Schrödinger equation carrying momentum along a curve. C. R. Math. Acad. Sci. Paris 346 (2008), no. 1-2, 33–38. pdf
Mahmoudi, Fethi; Malchiodi, Andrea. Concentration on minimal submanifolds for a singularly perturbed Neumann problem. Adv. Math. 209 (2007), no. 2, 460–525. pdf
Mahmoudi, F.; Mazzeo, R.; Pacard, F. Constant mean curvature hypersurfaces condensing on a submanifold. Geom. Funct. Anal. 16 (2006), no. 4, 924–958.pdf
Mahmoudi, Fethi; Malchiodi, Andrea. Concentration at manifolds of arbitrary dimension for a singularly perturbed Neumann problem. Atti Accad. Naz. Lincei Cl. Sci. Fis. Mat. Natur. Rend. Lincei (9) Mat. Appl. 17 (2006), no. 3, 279–290. pdf
Mahmoudi, Fethi Energy quantization for Yamabe's problem in conformal dimension. El. J. Differential Equations 2006, No. 71, 17 pp. . pdf